Next: Chordal Rings Up: Specific Class of Graphs Previous: Extremal Compactness &nbsp Contents



Interconnection Networks
We list in this paragraph the results about the graphs used for multi-processor based architectures.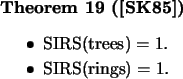 A more accurate form of the last point is presented in theorems 39, and 40 in Section 3.7.

Applying the results of the product of graphs [KKR93,FG98] it is quite easy to show:

Open question 5

- Are the bounds of Theorem 23 tight?
There are some experimental results in [SML94] about the stretch factor and the average stretch factor of 2D-grids and Tori with different general labeling algorithms.

---
2000-03-21