AIMS AND SCOPE
The 6th Colloquium on Structural Information and Communication Complexity (SIROCCO '99) is organized by LaBRI (Laboratoire Bordelais de Recherche en Informatique). This conference will focus on the relationship between computing and communication, i.e., the study of those factors which are significant for the computability and the communication complexity of problems, and on the interplay between structure, knowledge and complexity in systems of communicating agents.

The Colloquium is designed to bring together researchers interested in the fundamental principles underlying all computing through communication. The Colloquium will be held close to Bordeaux, France.

Original papers are solicited on the interplay between structure, algorithmics, knowledge and complexity in:
distributed computing
high-speed networks
interconnection networks
mobile computing
optical computing
parallel computing
wireless networks
...
Topics of interest include (but are not limited to):
communication complexity
complexity of constructing and maintaining structural information
models of communication
network topologies
routing schemes
sense of direction
structural properties and computability
topological awareness and metric information
topology-dependent communication, broadcasting and gossiping
The colloquium will be comprised of position papers (outlining open problems, research directions, etc.), research papers, and three invited talks.



PROGRAM COMMITTEE


| | |
| --- | --- |
| Amotz Bar-Noy | (U. Tel Aviv, Israel) |
| Jean-Claude Bermond | (SLOOP CNRS/INRIA/UNSA Sophia Antipolis, France) |
| Francesc Comellas | (UPC, Barcelona) |
| Michel Cosnard | (INRIA Loria, France) |
| Michele Flammini | (U. L'Aquila, Italy) |
| Satoshi Fujita | (U. Hiroshima, Japan) |
| Cyril Gavoille | (LaBRI U. Bordeaux, France) |
| Ori Gerstel | (Tellabs, Hawthorne, NY, USA) |
| Ronald L. Graham | (ATT Bell Labs, USA) |
| Marie-Claude Heydemann | (LRI, France) |
| Christos Kaklamanis | (Patra, Greece) |
| Francis Chi Moon Lau | (U. Hong Kong) |
| Burkhard Monien | (U. Paderborn, Germany) |
| David Peleg | (Weizmann Institute, Israel) |
| Stéphane Perennes | (SLOOP CNRS/INRIA/UNSA Sophia Antipolis, France) |
| Joseph G. Peters | (SFU, Canada) |
| Sergio Rajsbaum | (UNAM, Mexico) |
| Arnold L. Rosenberg | (U. Massachusetts, Amherst, MA, USA) |
| Peter Ruzicka | (U. Comenius, Bratislava, Slovakia) |
| Nicola Santoro | (U. Carleton, Canada) |
| Richard Tan | (U. Utrecht, The Netherlands) |
| Ugo Vaccaro | (U. Salerno, Italy) |
| Paul M.B. Vitanyi | (CWI, The Netherlands) |
| Shmuel Zaks | (Technion, Haifa, Israel) |
ORGANIZING COMMITTEE

SUBMISSIONS

Manuscripts consist of an extended abstract of at most 15 pages, clearly indicating the type of submission (i.e., position, or research).
Electronic submissions consisting of a readable postscript file of at most 15 pages are strongly encouraged. Right now, electronic submission process is over.


Authors who are unable to submit electronically should send 12 hard copies of their manuscript to arrive by February 19, 1999 or earlier and sent airmail to:



Cyril Gavoille
SIROCCO '99
LaBRI, Université Bordeaux I
351, cours de la Libération,
33405 Talence cedex
France
The deadline for submission of papers was February 19, 1999. Submissions later than February 19 are not guaranteed. Authors will be notified regarding the acceptance of their papers by electronic mail by March 29. Authors should include their electronic address.



PROCEEDINGS

The official proceedings will be published by Carleton Scientific and distributed during the conference. A selection will be proposed for a special issue of the journal of Theoretical Computer Science.



SPONSORS

We are grateful to the following companies and public or private organisations for providing financial or technical support of SIROCCO '99.
Laboratoire Bordelais de Recherche en Informatique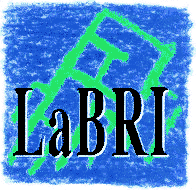 Université Bordeaux I
Conseil Régional